San Andreas Police Department
PERSONAL DETAILS
1.
Full Name: Matt Helent
3.
Date of Birth: 13/06/1993
4.
Gender : Male
5.
Last Rank: Seargent I
6.
Residence Address :Los Santos
7.
Country of Citizenship : WNL
Background
1.
Why did you dismissed/resign from SAPD? :Saya memiliki tugas Intelijen di kota Meksiko oleh NYPD, dan kemudian saya dipindahkan ke departemen untuk menyelesaikan tugas. (min. 100words)
2.
Why do you want to come back to SAPD? : Tugas saya di NYPD sudah terpenuhi, dan sekarang saya ingin kembali bertugas di pertempatan LSPD Los Santos, saya ingin menjalankan hak dari semua tugas saya di Los santos. (min. 100words)
3.
Why we should take you back as a SAPD Officer? :saya memiliki banyak pengalaman tentang akademi kepolisian terutama LSPD karena saya pernah memimpin sebagai CSI di SAPD dan menjalankannya hingga cukup lama. (min. 100words)
Documentation
1.
Provide a scanned document of your identification card ((/idcard)):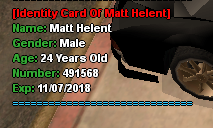 image hosting over 5mb
2.
Provide a scanned document of your valid licenses ((/licenses)):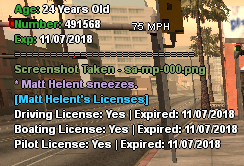 picture sharing
I,
FIRSTNAME LASTNAME
, hereby sign this contract that vouches my agreement to the terms of using this official format and understand that upon writing this document everything that I have stated here is true and that I'm obligated to follow the rules and regulations of the entire Reinstatement Process that have been explained to me previously and that any attempt to cheat my way into the SAPD will result in the immediate denial of my application. I agree that the officer(s) reviewing my application withhold the right to deny it at any time for any reason they deem acceptable or necessary.
Out of Character Reason
1.
Name Lengkap: Muhammad Harun
2.
Kenapa dipecat/mengundurkan diri dari SAPD? : Ada perubahan sekejul kerjaan yang disitu saya tinggal bisa aktif di DRL .
3.
Mengapa ingin kembali ke SAPD? : Dengan sekarang saya lebih banyak dirumah/sudah lagi tidak kerja, dengan itu saya bisa aktif kembali di DRL dan beroleyplay kembali kepada teman-teman lama saya. (Explain completely)
4.
Mengapa kami harus menerima anda kembali sebagai anggota SAPD?: karna tujuan saya dengan saya kembali aktif di DRL untuk menjadi SAPD dan dan Rp saya di SAPD tidak bisa dilupakan. (Explain completely)
5.
Dalam satu hari, berapa jam anda mampu untuk online? : 10 jam
6.
Waktu bermain SAMP 10 jam
7)
ID Line : Tidak ada
8)
Link Facebook :
https://www.facebook.com/sank.auk
9)
Nomor Handphone:: 089601117092